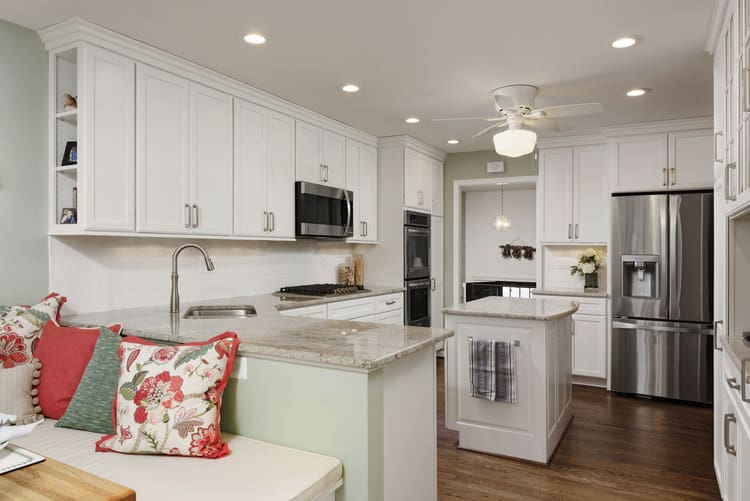 I interviewed many kitchen design companies before deciding on Murphy Design. That was the best decision that I have made in a long time. With Cindy's patience and expertise, we came up with a design that was exactly what I wanted, exactly the place that I wanted to spend a good portion of my retirement. John and Andrew are perfectionists which is exactly what is needed for this project. I enlarged the existing kitchen by 50 percent. This meant that everything had to be demolished….. the walls, the floor, the ceiling. They started from scratch. Although there were some "painful" times with dust, no water etc, I had total confidence in John and Andrew. Everyday I am now enjoying the fruits of their labor. I would not hesitate to recommend the Murphy Design company to anyone.
Relationship: Client-Annandale, Virginia
Project Date: September 2015
Project Price: more than $100,000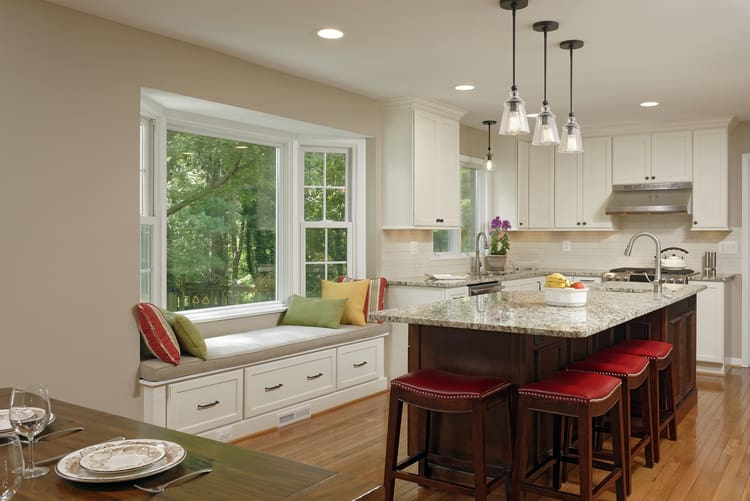 After receiving several estimates for our kitchen project we chose Murphy's designs because they spent so much time talking to us about choices and ideas before we even committed. I loved Cindy's ideas and her ability to be so patient with me while I made up my mind! I valued her trained professional eye for helping me sort through so many choices! Everything about the process was great. Andrew mainly did the demolition and he was very prompt and courteous every morning, and kept the mess to a minimum. I had no problems with dirt and dust all over the house! John is a true craftsman and he did most of the installation, as well as custom built a bench seat under a window and made custom trim for the island and made everything look wonderful. The overall process was fun and exciting and we love our new kitchen! I would highly recommend Murphy's designs.
Relationship: Client-Annandale, Virginia
Project Date: February 2015
Project Price: $50,000 – $100,000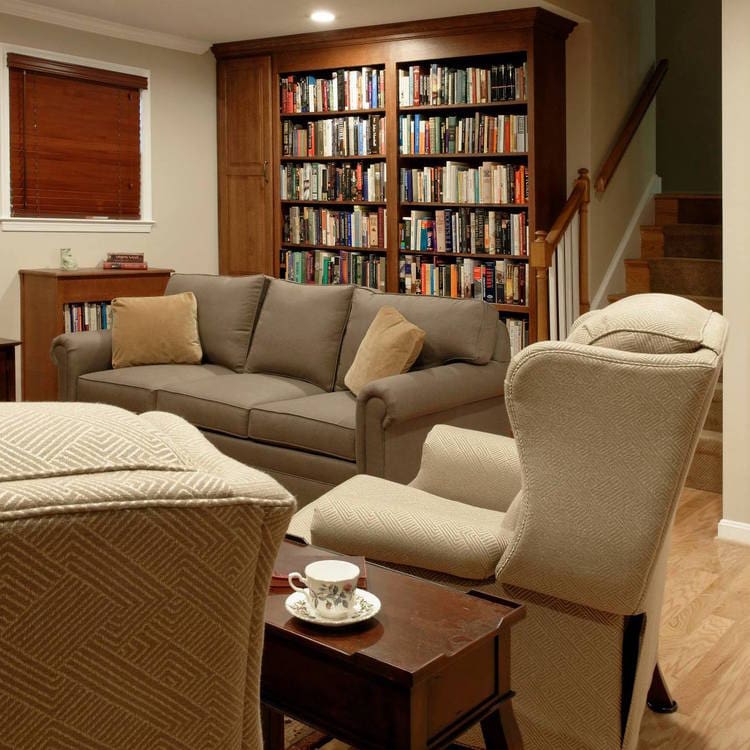 Murphy Design did a superb job beautifully transforming 3 rooms into appealing and functional spaces that we are enjoying and that will add significant value to our home. They are very easy to work with, communicate well and work as partners with their clients to arrive at the best solution. The remodel required us to move/dispose of much that had accumulated over the years but Murphy Design accommodated us with a workable schedule that expeditiously completed the work in stages. The designs were creative and the carpentry and other work was flawless. The trades that they work with were excellent. All in all a very satisfying experience warranting the highest rating.
Relationship: Client- Annandale, Virginia
Project Date: November 2014
Project Price: $50,000 – $100,000
I recently completed a remodel of my kitchen. From the start of the process Cindy and John showed their professionalism, expertise, and customer service. It is obvious that they want to ensure your complete satisfaction. Every individual on their team puts in the time, effort, and energy to make sure that they accomplish this goal.
Cindy is an excellent project manager, which makes for a successful project. She very clearly outlined expectations for budget and timeline. She is diligent in keeping you aware of what is going to be happening next and when. If any questions arise, the Murphys address them immediately.
I am extremely pleased with the final result of my kitchen. From design through construction, Cindy and John provided thoughtful suggestions and ideas. Their years of experience in design and construction are very evident. I would not hesitate to use them for a future project.
Cindy and her husband John worked with us patiently for a year to come up with an affordable and efficient design for our almost 30 year old kitchen and foyer. The kitchen was gutted and all cabinetry, appliances, lighting, and countertops were replaced and reconfigured. The entry way was updated with new doors, hardware, and lighting and the original tile floor was replaced throughout with hardwood. The powder room was also refreshed. They were wonderful at being very budget aware without sacrificing quality, function, and the overall aesthetic. Cindy was so fun and accommodating to work with. She has such wonderful vision and is so open to different ideas and making sure they are going to work and stay within budget. The Murphy's Design crew was absolutely wonderful. Andrew was on the job site every single day – always on time and left it clean and with clear communication about what was going to happen the next day and in the coming weeks. Their work is meticulous and the people they work with on a regular basis who do flooring, plumbing, electrical, and tile were all outstanding. We were very comfortable having each one of them in our home, even when we were not able to be there.
We have a couple of other projects we are looking forward to working with Murphy's Design on and we would not hesitate to recommend them to anyone who needs remodeling or construction work done.
Relationship: Client-Clifton Virginia
Project Date: February 2015
Project Price: $50,000 – $100,000
As an architectural photographer I find working with Cynthia a completely satisfying experience. Not only is their design and construction first class, their preparation for our photo shoots is as good as we've experienced. For us, being on time, having the site prepared and always willing to share in the creative process makes our job enjoyable. I'm sure they are the same with their clients.
Bob Narod, Architectural Photography
Relationship: Photographer-Fairfax, Virginia
Our project involved a complete renovation of our kitchen, removing the wall between the dining room and kitchen, installing hardwood in the kitchen, refinishing the hardwood floors and painting the entire first floor, enhancing and tiling the den fireplace, and installing recessed lighting in the kitchen, dining area and den. We could not be happier with the work performed by Cindy and John Murphy and their team. Everyone on their team was professional, respectful and highly skilled in their specialty. Cindy and John took great care to ensure we were satisfied with every aspect of our project. We highly recommend Murphy Design for kitchen and bathroom remodeling.
Relationship: Client-Vienna, Virginia
Project Date: May 2014
Project Price: $50,000-$100,000
We are currently in the midst of our Kitchen Re-Invention. We began the process from afar and stayed in close touch with Cindy and her team. It is a family owned operation and their attention to detail has been greatly appreciated and we are excited for the finished product.
Relationship: Client-Alexandria, Virginia
Project Date: July 2013