Estimating a remodeling timeline is dependent on the overall scope of work requested, most kitchens follows one of three tracks for their scope of work; minor updates 2-4weeks, pull and replace 3-4weeks, and design build remodeling 11 weeks or longer. Since the scope of work for a kitchen remodel varies greatly from one homeowner to another identifying which improvement track your project will fit is the first step. The best decision a homeowner can make is deciding which track they want to follow and then focusing on the process, cost and execution of that track. The three tracks will be broken down and covered in my article; "How to get accurate cost information so you can hire the right contractor."
But this article is about time, so below is the remodeling timeline for each of the three tracks in a kitchen remodel:
Track 1: Minor Updates
If you are planning to keep your cabinets as is or paint your existing cabinets, then this is the category you fall into. This is the quickest of projects and also the easiest on you and your family (pets included). You can expect to make all your decisions regarding new countertops, appliances, cabinet hardware, lighting, tile, and paint with only 1 to 2 weeks of planning. Once these selections/ decisions are complete, the work can be scheduled and should take 5-14 days to execute the updates. Estimated time from start to finish 2-4 weeks.
Track 2: Pull and Replace
Pulling out your existing kitchen and replacing it with new cabinets, countertops, and potentially updated flooring makes this project a big impact but a reasonable cost option. (More on that in the article, "How much does it cost to pull and replace my kitchen?")
The pull and replace kitchen requires more time upfront in the selection/decision phase. You will need to select the new cabinet style, the countertop, tile backsplash (if applicable), and address the flooring. Also, cabinet hardware, sink, faucet, appliance changes, paint, and lighting is usually discussed. These decisions can be made within 2-3 weeks in the planning stage.
Once the planning stage is complete, there is typically a wait time of 2-6 weeks until the cabinets become available and delivered to your home. These changes are more disruptive than a minor update. Even so, pull and replace can be quickly executed if all decisions/selections have been made, and products are ready for installation.
Most of the work can be completed in 14-21 days, and your kitchen is back up and running. This also depends on if there is a floor change to raw wood sand and stained in place, which adds an additional week.
In our area, a pull and replace kitchen does not require permitting as long as you stay within the existing footprint and mechanical locations. Check with your local jurisdiction for more information. Estimated time from start to finish is 7-12 weeks.
Track 3: Design Build Kitchen Remodel
Because the very nature of this type of kitchen remodeling is to personalize the room just for you, it can be challenging to provide a timeline. Structural changes, wall removals, additional framing all make both the design and execution of this remodel more time-intensive.
The following guide will help you get started and adjusts based on your needs. The design build kitchen remodel can be executed by either a general contractor or a design build remodeling firm. There is a difference in time and process between the two, so check out the article, "How do I select the right Company for my Kitchen Remodel?"
There are three phases to a Design Build Kitchen Remodel:
Design
Pre-Construction
Build Out / Installation.
Design (4-10weeks)
The very first allocation of the remodeling timeline goes to the design of your new space. This includes the wants and needs analysis and scope of work outline. I try to allow for no more than 2 appointments per week to tackle the decisions. Meeting twice per week is an aggressive schedule, and not all homeowners have that time available.
We have lots of local showroom options here in Fairfax, Virginia, so each client gets to decide if they want to meet at the local showrooms in their home. Check with your contractor on how and where the selection meetings will take place.  All told, the Design Phase can be completed in 4-8 weeks. Smaller projects with fewer decisions can be done more quickly. Larger projects can spend 6-10 weeks in design.
Maintaining a consistent meeting schedule keeps the decisions on track. Following a structured selection process is key to getting through the choices and getting the kitchen you want. (The article "Why do I need a Kitchen Designer?" goes into the selection process in more detail.)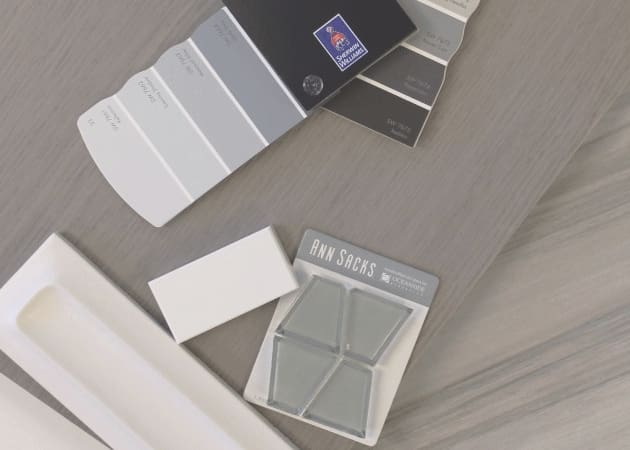 From Design Selection to Beginning Work (2-8 weeks)
The time between finishing the design selections and starting the work is called pre-construction.
Remodeling your kitchen is similar to executing a favorite dinner recipe. When preparing a recipe, you have active prep time, inactive time, and cooking time. The pre-construction phase is like the inactive time, you are no longer actively doing any work, but behind the scenes, a lot happens.
The pre-construction phase of your remodeling timeline is entirely dependent on the policies of your contracting firm. It's standard practice that the pre-construction phase lasts until all the products have been confirmed for delivery. The cabinets typically have the longest lead time so they can control your start date.
The schedule is also determined by the number of jobs ahead of yours. This determines the length of time a client will spend in this phase. On the short side of things, you can expect 3 weeks; on the longer side of things, you can expect 6-10 weeks.
Most contracting firms work hard to keep projects starting within 4-6 weeks of material being available unless the client has requested special scheduling considerations.
Construction (5-12 weeks)
The time it takes to build out your project is usually the most concerning for you. The best practice is for the contracting firm to work on your project from start to finish with a lead carpenter assigned to your project. What that means is that other than waiting for an electrician, plumber, or other specialty trade, you can look for progress each day.
The goal is always to finish one task and immediately be able to move into the next. On average, a major kitchen remodel will take 22-28 working days, or 4-6 weeks. If the project has a large structural or weather-related component, you should add a minimum of 10 working days to this estimate. It's crucial in these projects to follow all building codes and local jurisdictional procedures.
nspections can slow down the process but are necessary to provide the removal of walls, relocation of appliances, additional electrical or mechanical changes that these projects require. Sitting down and communicating the schedule with you helps to ease the stress of remodeling. You can expect the contractor to use the scope of work to build a calendar before starting the demo. The calendar helps to keep you informed on what to expect when.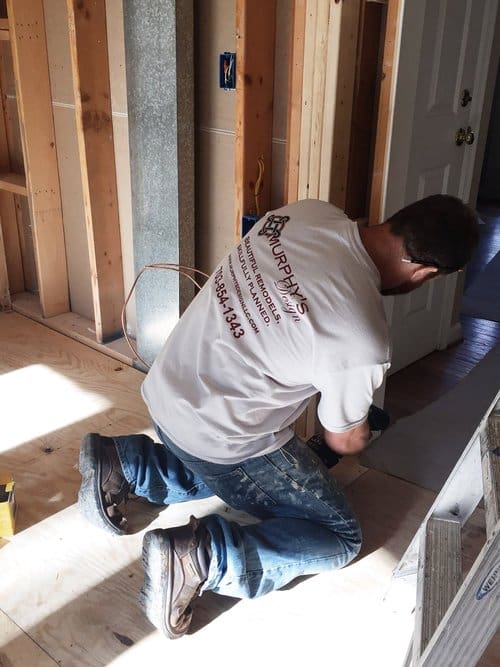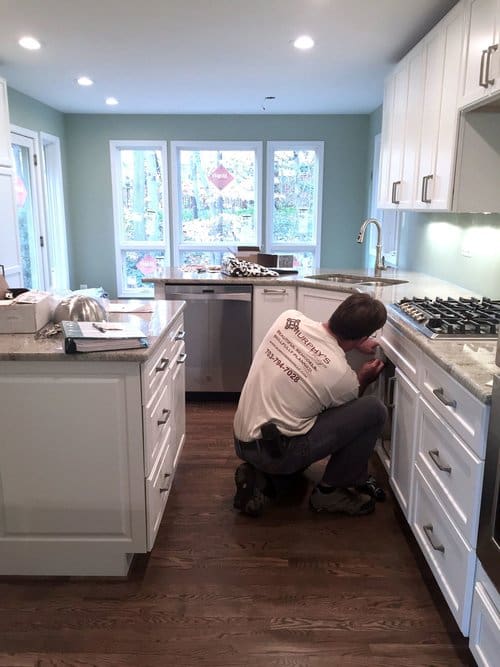 Working in your home for long periods of time requires daily consideration. The entire household's scheduleb(pets included) is one of the keys to making the remodel go smoothly. This can be done be communicating the timing of electrical and plumbing disruptions in advance.
Closing Thoughts
In summary, you can see how easy it is for your expectations to be misguided for how quickly your project can be completed. The time it will take will be dependent on the work that you decide to do.
Start the process earlier than you think and allow yourself time to enjoy making the decisions that will impact your daily life. If you can do that, you will be loving your new or new kitchen sooner than you thought.
One last rule: don't rush it. Starting the build-out and installation before finishing the design phase is always a bad idea. Decisions that are rushed are often regretted. Don't allow yourself to be pushed or select placeholders for major items just to get the job started.