Choosing flooring can be one of the toughest tasks. Whether you're on a tight budget or the sky's the limit, it's never easy to decide on something so permanent. Here we're breaking down the pros and cons of all the different home flooring choices.
Wood & Engineered Home Flooring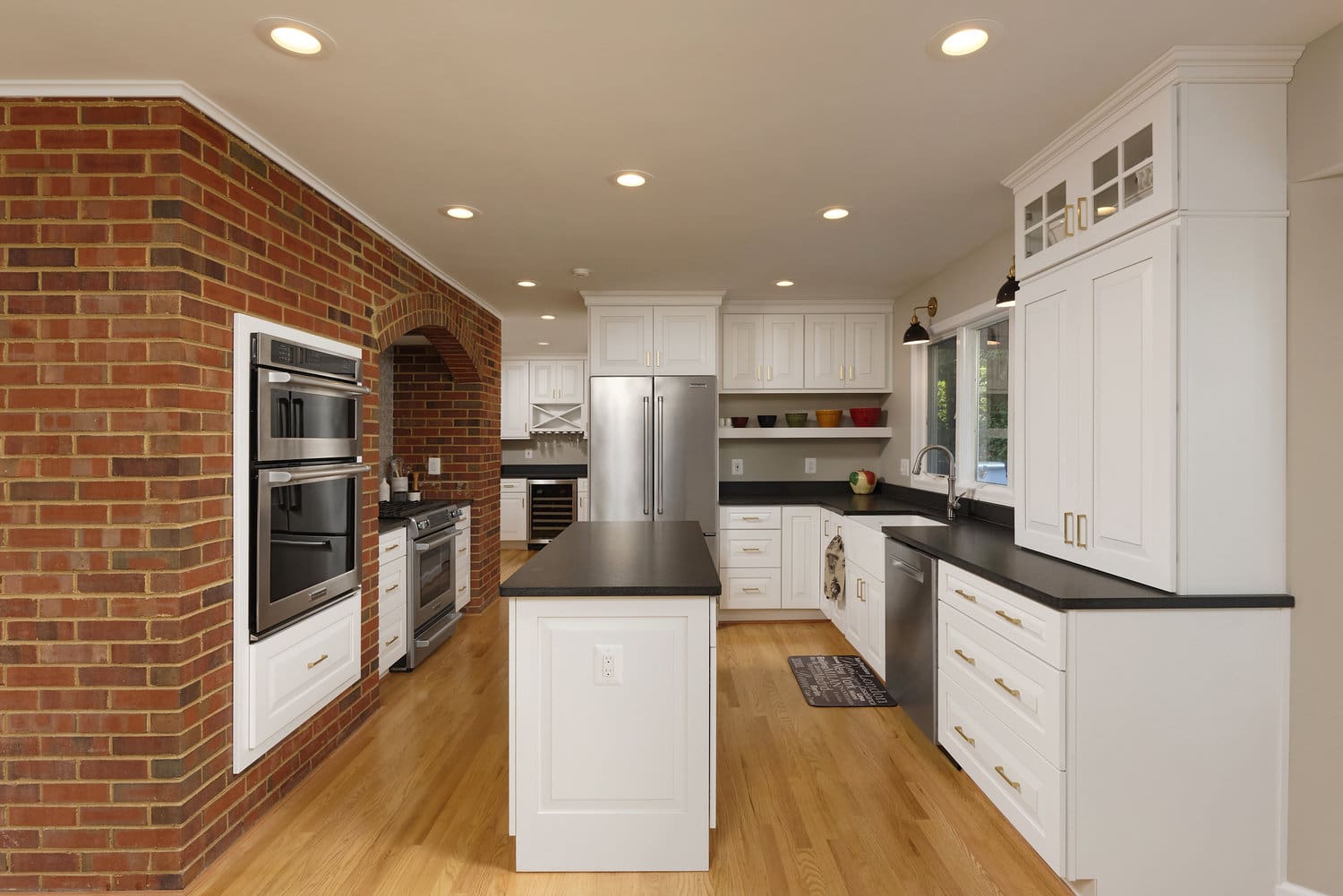 $3 to $12 Per Sq. Ft.
PRO:
Warm, beautiful, forgiving, and durable when maintained regularly. Great for living spaces, kitchens and half baths. While wood is far from waterproof it will last indefinitely in the kitchen if spills are addressed quickly and the floor is maintained with the correct cleaning products and practices.
A sister to solid wood floors are engineered wood floors- a sandwich of solid wood and plywood. They are not to be confused with laminate flooring- an image of wood printed on a thin plastic or LVP planks a 3-D printed composite. The top layer of engineered wood is solid lumber, meaning nicks and scratches only add charm, not unsightly scars.  Also, the floor can be sanded and refinished to restore its beauty. Scraped Engineered wood floors have a rich rustic patina that removes the worry from scratching and dents.
Engineered wood floors are most often finished in the factory, which allows a wide array of tones and a more durable wear surface finish. They shrink and expand very little leaving little to no gaps between boards which is good when installing over concrete or in high humidity climates.
CON:
You'll pay a premium for the factory finish on the engineered wood floors. Solid wood floors can be damaged over time with the continuous abrasion from your pet's nails. Softer solid wood floors with very dark finishes can be problematic showing every imperfection. Long term exposure to wet conditions is not advised.
Bamboo
$3 to $7 Per Sq. Ft.
PRO:
Durable, sustainable, distinctive, bamboo is best for kitchens and living areas. Bamboo is more resistant to water, stains, and warping than other hardwood.
CON:
Bamboo is harvested and early harvesting can cause long term issues once the material reaches your home and is installed. Always purchase bamboo flooring products from reputable and reliable resources.
It can still expand and contract so its not best in high-humidity environments like bathrooms and spaces that are exposed to higher humidity fluctuations. The natural color is best as the wide array of colored finishes are very difficult to restore if damaged.
All bamboo is bonded together with adhesive, so look for formaldehyde-free and low VOC. Also make sure it can be sanded and finished (some can't). There is no reliable grading system for bamboo so look for a reputable manufacturer. Prices can fluctuate based on product availability.
Luxury Vinyl Plank or Tile
$3 to $8 Per Sq. Ft.
PRO:
This is least expensive home flooring option for kitchens and bathrooms when installation cost is factored. Comes in an infinite number of styles to suit every taste. Its resilient nature makes it comfortable for hours of standing. Installs quickly compared to tile or unfinished hardwood and most are installed in less than a day and put to service immediately.There are numerous brands available that are impervious to pets, waterproof and acceptable to be installed under heavy furnishings such as Pool Tables, in laundry rooms and kitchens.
CON:
It's not as tough as porcelain tile and cant be refinished like hardwood. Visible damage requires replacement of the individual tile or tiles. Some lower priced brands can be damaged by pets and heavy objects cannot be placed on them. Finding the right product for your space is the key to this flooring product.
Ceramic & Porcelain Tile
$5 to $20 Per Sq. Ft.
PRO:
Tile is waterproof, super durable, green, and with endless design choices. Also, this is best and traditional product for high functioning bathrooms.
There is common ceramic and a harder formulation called porcelain. Porcelain is a stronger product. Ceramic is more affordable but less dense and more porous requiring a hard surface glaze to protect it. Porcelain is durable and waterproof and is made with a process that allows almost endless design options including the look of concrete, wood, or natural stone without any of the maintenance they require.
CON:
Though high quality tile ages beautifully, grout doesn't.  So experts recommend keeping grout lines on the small side and sealing them well to prevent staining. Ceramic tile is more fragile because of the glaze than porcelain so stick with porcelain for underfoot. Tile at its core is a hard non-moving material and will aggravate those with leg and back conditions if they stand or walk on them for long periods of time.
Cement Home Flooring – Encaustic Tile
$10 to $18 Per Sq. Ft.
PRO:
Cement tile is thick, durable, and honed finish with crisp bright patterns. The materials are durable, and the results are unique, vibrant colors in a matte finish, with no glazing to mask their beauty. With time and traffic, cement tiles develop an aged patina that only enhances their handmade look. The tiles can also be resurfaced if desired.
CON:
Staining is a concern. Regular resealing helps to avoid the possibility of staining. Tiles will also chip when heavy objects are dropped on them. Similar to ceramic and porcelain tile, encaustic flooring does not offer any give when standing or walking on it.  Therefore it will aggravate people with leg and back conditions.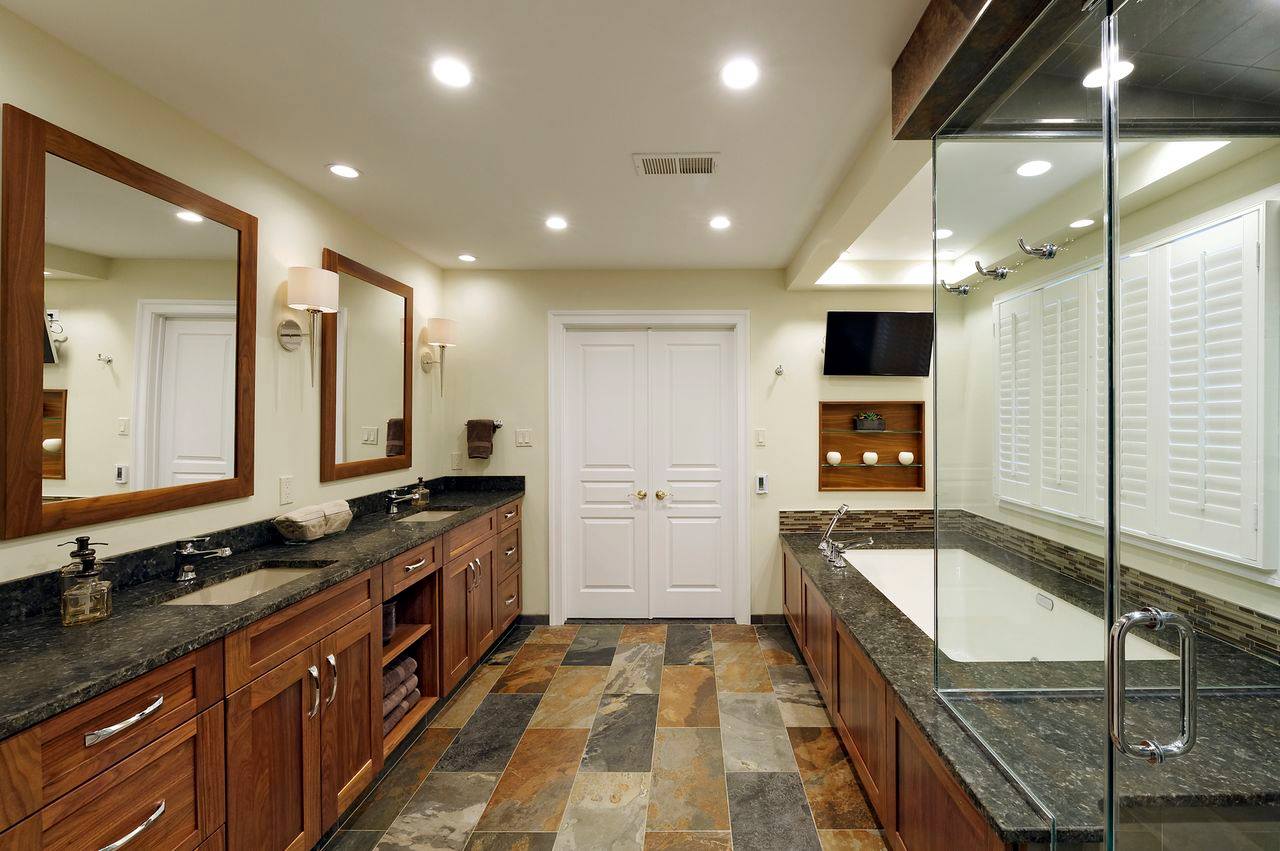 $2 To $30 Per Sq. Ft.
PRO:
A durable, beautiful, and natural flooring. Natural stone is available in a wide range of stones and sizes, while offering rich history and soulfulness about where it was quarried. High shade variation adds to the natural beauty and visual interest.
CON:
Stone must be sealed, resealed, and cleaned with specially designed products. The high shade variation causes color unpredictability by piece often giving you a different look than you may have seen in the showroom. You must buy stone finished specifically for floors not walls, to avoid slips and falls. You should order 20-30% more material than needed to pick through. Close attention to the grade of the marble is important as low grade materials although well-priced also have more imperfections, pitting, veining and discoloration than high grade select materials. Similar to tile stone does not offer give when you are walking or standing on it and can aggravate those with leg and back conditions.
Linoleum
$2 To $5 Per Sq. Ft.
PRO:
Warm, durable, and green, with brilliant colors, the solid sheets create a floor with fewer seams making it suitable for kitchens and bathrooms. The tiles & planks are DIY Friendly. Quick and Easy installation saves money.
CON:
The solid sheets do require an experienced linoleum installer who can heat-weld the seams and make the edges water tight. Although the seams are tight they're not recommended for a children's bathroom where there may be standing water. Staining, scratches and discoloration is a common complaint with this home flooring option.