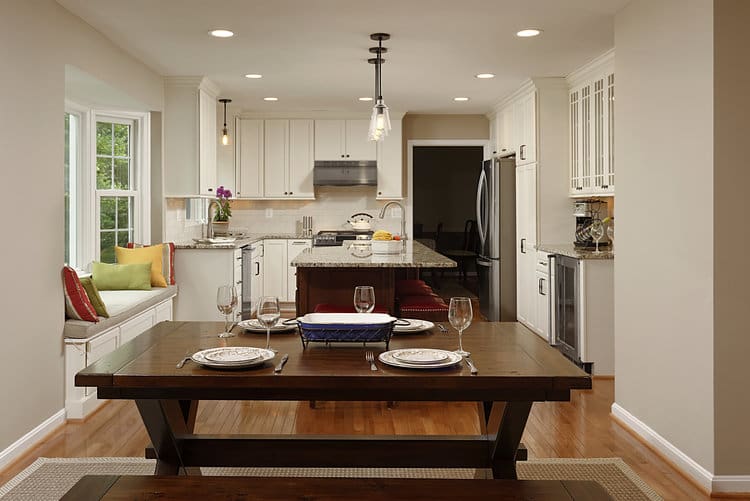 Figuring Out Your Budget (updated 6.5.18)
It's a big day, you have decided to remodel your kitchen, bathroom or another important room in your home.
You've probably already tried to answer this question with google. You type in "How much does a bathroom remodel cost" for example, and the results are endless and overwhelming.
You'll quickly learn that the cost of a remodel starts with your location. So you enter in your location and your results diminish a little bit but not much and you're quickly buried in search results that don't make you feel any better. The key to creating an effective remodel budget is not spending countless hours getting estimates but instead by fine tuning a budget range that you can be comfortable with.
Five Major Factors In Remodeling Costs
There are 5 Major factors in how much it will cost to remodel a bathroom or kitchen. They are;
1. Where: your location
Where you live is one of the biggest influences on overall cost. The best source of information based on where you are located is
http://www.remodeling.hw.net/cost-vs-value/2018/
This report is compiled each year by location. It gives both a national average and your regional information. It's a great starting point!
2. What: the details of the work you want done
What you want to have done? We call this the "scope of work" and the best resource for that is speaking with your local professionals who have completed projects similar to yours. Most can provide you with a low to high range with a detailed discussion.
3. Size: the overall square footage of the room
Size matters. A local Remodeler who specializes in your project can give you an excellent range based on your square footage. This works particularly well for Bathroom Remodels.
4. Quality: the products and workmanship you expect
This will ultimately cause great fluctuations in your final cost. Understanding the cost between the different materials is the best way to manage the overall budget. Focus on the Construction cost because material cost can be managed.
5. Who: the professional you ultimately hire
Hiring a professional that fits the scope of work you want done with all the licensing and insurance that is required. Hiring a handyman for a complete gut remodel or a company specializing in additions to design a simple pull and replace kitchen will cause you to spend more in the long run then getting a professional who specializes in exactly what you are looking for.
How do we fine tune our remodel budget?
The most important factors will be;
1.What you are comfortable spending?
You should have an idea of what you would be comfortable investing in the project before talking to anyone. Present your thoughts as a range, such as; "we were thinking of investing 30-40k". Then begin by asking if yours is a reasonable expectation. How they answer will be a clue to whether you are; in the ballpark, material considerations, and how easy they will be to work with. Make sure you are speaking to professionals who specialize in your projects work.
2.Do you feel like you have a partner in developing your project around your comfort level?
Starting the planning of your project with open and honest conversations around spending is very important to developing trust. Not every client has an open ended budget so working back from your comfort zone can be an effective way to establish a budget. It's important that your choice of Remodeler respects your boundaries around cost. If you choose to spend more on any item that is your decision to make once you have all the specific details and can review the importance to you. A process like this leads to feeling confident that you have selected the right person to help guide you, someone who has your best interests at heart and will be upfront about ways to keep the cost in line.
What Happens If What We Want Is Too Expensive?
First, make sure that you are looking at the right team of professionals. There are many times when a client calls us for a project and in talking with them during our *FREE* Virtual Consultation I can give them guidance on who would be the right team. Here at Murphy's Design we specialize in Master Bathrooms and Kitchen's with a focus on making changes to the floor plan through design. Minor Bathroom updates would not use our greatest skills but we have great partners who can handle these items. During our conversation I can offer expert guidance on possible solutions for trimming the fat off the budget.
Even major remodeling has cost considerations. When doing large projects look at the project as a whole and make compromises in the materials or finishes you select. In other words, don't over design without taking the time to go back and make sure your decisions are really providing the best value for the dollars. Often you can select products with the same look, feel and quality for much less. Products such as sinks, tile, and lighting are great examples of these types of materials. Next, looking at alternative floor plans can often achieve your project goals without some of the expensive modifications. A wonderful example of this is taking down walls. It is almost always possible. However, the cost to completely remove a wall can vary greatly depending on your particular home. I have done many projects where we modified the amount of wall we removed or how we created the structural support to still open up the room but in the end save thousands of dollars.
Final Thoughts
The right budget for your project needs to to be developed, having an ally with the experience and access to up to date information during the planning stages is crucial. I believe it is my job to open and honest and guide and educate you as we are designing your project. Through years of experience I have learned that an educated customer is happier overall. Seek out those types of professionals and that's how you will find the right budget for your project.